Staying Well
Getting well is one thing, and staying well is another. Staying healthy, fit and pain-free does not need to be a chore. Articles in this section cover topics to help you stay well. New articles are added here on a regular basis, so check back frequently.
In This Section
LEARNING TO RECOGNISE AND COPE WITH THE STRESSES
While a certain level of life stress is normal, even beneficial as a reaction to positive events, too much negative stress can trigger serious health issues.
GOOD NUTRITION: BEYOND FOOD PYRAMID MODELS
The Healthy Eating Plate is a mainstream approach to healthy eating that claims to be based on the latest nutrition science.
GETTING GOOD SLEEP
Along with good eating habits and regular exercise, getting proper sleep is essential for maintaining a healthy lifestyle.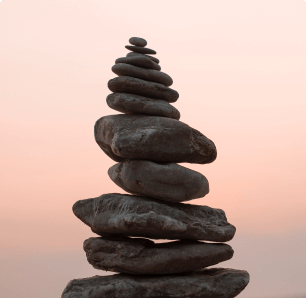 STAY SMART ABOUT YOUR SPINE
Your spine is made up of three main regions: the cervical spine, the thoracic spine and the lumbar spine, which bears a great deal of the body's weight and is vulnerable to strain or injury.
LOW-IMPACT EXERCISE
Some people experience difficulty doing strenuous activities. Good thing there are low-impact exercises you can perform that will help you achieve fitness goals despite limitations.
TIPS FOR KEEPING IN SHAPE
Many people give up trying to keep in shape because the process sounds too difficult, too expensive or too time-consuming. This article gives some simple tips to help you get in shape and stay that way.
MOTIVATION TO EXERCISE
If you are not in the best physical condition or are recovering from an illness or injury, it's that much harder to put in the effort. So, how do you acquire the motivation to exercise?
TRAINING THE ROTATOR CUFFS FOR INJURY PREVENTION
Exercises to strengthen the rotator cuff muscles will help prevent injury and improve your performance.
YOGA AND SOFT MARTIAL ARTS
Yoga and soft martial arts such as tai chi and sun do can provide you with the strength, flexibility and overall sense of well being you deserve.
LOOK AFTER YOUR KNEES
Knee pain is a common reason for seeking physiotherapy. Because of its location, function and anatomy, the knee is more susceptible to injury than any other joint.
LOWERING HIGH BLOOD PRESSURE
High blood pressure runs in families, but the good news is that it is preventable and can be controlled.
KEEPING LOWER BACK PAIN AT BAY
Some people suffer from chronic back pain and have resigned themselves to accepting this as their fate, however with the help of physiotherapy, back pain can be eliminated.
TEN LIFESTYLE CHANGES FOR BETTER HEALTH
Improving one's health involves making lifestyle changes which would not only be healthy, but will put you on the road to longevity and better living.
INCREASE DAILY ENERGY LEVEL
If you are feeling tired all the time the last thing you may want to do is exercise, however exercise is one of the best means of counteracting fatigue and recharging your energy supply.
PROPER HYDRATION
The human body is made up of 70% water, and can lose up to 3 litres daily, therefore it stands to reason that we need to maintain our water level in order to be healthy.
IMPORTANCE OF EXERCISE IN THE ANTI-AGING PROCESS
Nowadays, many people are discovering that exercise can provide relief or stave off these negative offshoots of aging.
SWIMMING FOR FITNESS
Are you looking for a fun, easy way to boost your metabolism, improve fitness and endurance and lose weight? Then try swimming.
AVOIDING TOTAL HIP SURGERY
Hip surgery is one of the most frequent procedures performed in hospitals today. You can delay or prevent this altogether with a program developed by your physiotherapist.
PRESCRIBED EXERCISES; STICK TO THE PLAN
Upon being discharged from physiotherapy treatment, your physiotherapist will very likely give you a home exercise program of exercises to follow.
WALKING; SIMPLE YET EFFECTIVE EXERCISE
Whether you are an athlete in the prime of life, an elderly person or someone recuperating from an illness, walking is one form of exercise that nearly everyone can, and should, participate in.
PREVENTING FALLS
Falls are responsible for a majority of hospital visits by elderly people. Poor balance and posture, low vision, dizziness and a number of other reasons can lead to falls.
AVOID TAKING MEDICATION
At SK Physiotherapy, with our holistic approach to healing helps people overcome many conditions without the use of medication.
HEALTHY BODY, HEALTHY MIND
It has been proven that people who exercise regularly not only keep their bodies healthy, but they are more alert, have better memories and seem to age more slowly.
SOFT TISSUE INJURY PREVENTION
Soft tissue is the name given to muscles, tendons, ligaments and skin. In some cases, a single forceful movement can damage the soft tissue.
EXERCISES YOU CAN DO IN THE OFFICE
Many people who perform desk-bound jobs complain they do not have time to exercise or they simply get absorbed in their work and forget to have a break. The fact is you don't have to take your office job sitting down.
BACK TO BASICS
Back pain affects everyone at some time in their life. It may be an isolated incident, as when you hurt your back during sports or exercise; unfortunately for many people, back pain is a chronic illness.
BENEFITS OF PHYSIOTHERAPY AFTER CARDIAC SURGERY
It is natural to feel weak and wanting to stay in bed following cardiac surgery. However nowadays doctors are getting patients out of bed the day following surgery.
EXERCISING DURING TRAVEL
Whether you are traveling for business or pleasure, with a little bit of imagination you can have fun without sacrificing your fitness level.
EXERCISING IN COLD WEATHER
Abandoning your fitness routine during winter will get you out of shape and it will be harder to start back when the weather changes.